How to play SuperEnalotto and Superstar
How to play SuperEnalotto
Playing SuperEnalotto is easy and fun. Players simply have to pick six numbers between 1 and 90, and various prizes are won depending on how many drawn numbers they match. SuperEnalotto draws normally take place on Tuesdays, Thursdays and Saturday evenings, although sometimes the draws are rescheduled in case of overlap with holidays. You may find a complete list of upcoming rescheduled draws on this page. SuperEnalotto can be played for as little as € 1 and there are also prizes for those who only match two main numbers. There are higher prizes for players who match more numbers, and whoever matches all six main numbers drawn wins a share of the jackpot.
In case nobody wins the jackpot it rolls over and rises up. There is no limit to how much it can increase in value, and in the past this has allowed the game to raffle incredibly high value prizes. The record for the largest SuperEnalotto jackpot ever won is held by the € 177.7 million that was won thanks to a 70-odds system in October 2010.
In each draw, a Jolly number is drawn after the main numbers from the remaining 84 spheres. It gives to players who have matched five main numbers a chance to increase their payout if they manage to match the Jolly number.
How to play with SuperStar number

The SuperStar additional game was introduced on the 28th March 2006 to offer more chances to win prizes. In order to participate players must pick a number between 1 and 90. A SuperStar number is drawn during each SuperEnalotto draw. As this number is drawn from a different urn than the SuperEnalotto six main winning numbers it is possible that the same number will be drawn in both the main draw and the SuperStar draw.

In order to play the Superstar number player has to pay an additional cost of 50 eurocents. It is a game offered exclusively together with SuperEnalotto and therefore it cannot be played separately. However, players can choose to how many of their SuperEnalotto tickets they want to add the SuperStar option - it has not to be necessarily added to all or none of them.
Instant prizes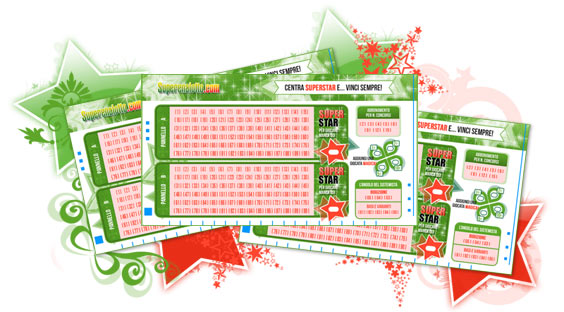 SuperEnalotto players can also win instant prizes, without even having to wait for the time and day of the draw they played for. Following some changes to the game introduced in early 2016, participants can now get immediate cash winnings of € 25 simply by purchasing a SuperEnalotto ticket and, once played, check if the numbers printed in the magic square of their receipt match to some of those played by themselves (SuperStar numbers are excluded).
Time-limited subscriptions

SuperEnalotto can be played in advance via time-limited subscription, allowing regular players to immediately enter multiple draws. The numbers selected by the participants will be recorded and will remain unchanged, making it easier and faster to participate in multiple draws. The possibility to play up to 15 draws in advance allows players to avoid missing out on the opportunity to win big prizes.
Systems

SuperEnalotto players can use computer-generated systems to increase their odds of winning a prize. By playing different combinations of numbers, participants who use the systems are sure that if the winning numbers are drawn within a certain range they could have a better chance to win some prizes.
SuperJackpot Tickets
From 12th June 2017 a new game mode called SuperJackpot is available in the retailer shops. It offers the opportunity to participate quickly and easily to SuperEnalotto drawings, and it increases the chances to win compared to a single ticket. There are two types of SuperJackpot tickets:
€ 5 SuperJackpot, which plays 5 combinations and grants a 1 in 5 chance of winning a SuperEnalotto prize;
€ 10 SuperJackpot, which plays 10 combinations and offers a 1 in 3 chance of winning a SuperEnalotto prize.
To play them you have to go to the retailer, to choose which of the two SuperJackpot tickets to play, then to have the ticket validated and everything is done! But do not forget to collect your receipt and keep it in a safe place.